Being in debt should never be taken lightly as it can strain relationships, lead to unnecessary stress and pressure and even cost you your independence. Moreover, not being proactive and taking steps to mitigate the issue results in greater detrimental consequences.
Taking the first step simply by wanting to resolve the situation is commendable in itself and one of the easier ways to get the ball rolling is to speak with a debt consultant.
If you are currently struggling to pay off your debt and are thinking of utilizing a debt consultancy service, this step-by-step guide to what the process entails will help you to make a decision.
Read on to find out more, including why approaching our team here at Debt Aid is a considerable option.
1. Start off with a no-obligation consultation
Before you decide to take up a debt solution, it is important to understand what is in it for you and the steps you will need to take. All of your queries will be answered during a no-obligation and one-to-one consultation with a debt consultant. It is recommended that you bring along relevant documents so that the consultant gets a clearer idea of your current financial situation, and share as much as you can about your finances and concerns.
At Debt Aid, we make sure that all consultations are done privately in our office and that no judgment gets passed.
2. Financial assessment 
During the consultation, debt consultants will evaluate your financial situation and the options available. This enables them to develop a feasible solution that will help you pay off your debt in the most suitable way. The repayment plan is typically tailored to each individual's circumstances and needs because not everyone has the same amount of debt or responsibilities.
Our debt consultants at Debt Aid have years of experience dealing with different types of scenarios and are trained to provide solutions that are workable and in your best interest as much as possible.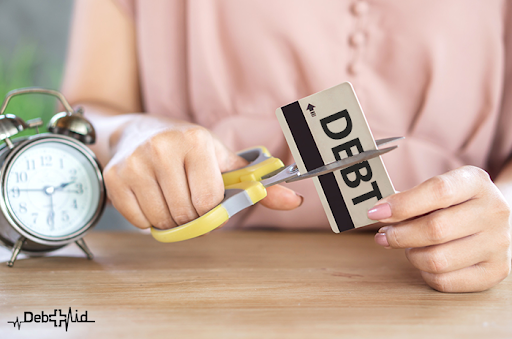 3. Guidance
If you do decide to take up what your debt consultant has suggested, then the next step is personalized guidance that will help you to achieve financial freedom quickly. The consultant may provide you with some tips on efficient and effective ways to become debt-free and manage creditors. They may also recommend some of the schemes you can take up to lessen your burden and refer you to external organizations you can seek help from.
Debt Aid boasts a team of consultants who are familiar with the nitty-gritty details of various repayment options available in Singapore so as to offer you the best debt solution.
Debt consultants are passionate about helping people from all walks of life to the best of their ability but they are not superheroes who can do every single thing for you. For instance, they cannot negotiate with creditors or moneylenders on your behalf although providing advice on how you can manage or deal with them in the event of harassment or violence is possible.
Nevertheless, a debt consultant's end goal is to assist debtors in rebuilding relationships, breaking free from social stigma and regaining financial independence through being debt-free.
If you need help with your debts, get in touch with us here at Debt Aid, a debt consultancy in Singapore, today.