Being in debt can take a toll on your mental health and strain relationships with your loved ones. While there are some tips for getting out of debt quickly, the reality is that it takes a lot of discipline and effort to sustain the plan.
Sometimes, unforeseen circumstances such as losing your job or falling ill can add to the burden too, making it difficult for you to see the light at the end of the tunnel.
In such cases, you may be considering filing for bankruptcy. As a debtor, you can voluntarily file for bankruptcy before your creditors do so if you owe and cannot repay debts of at least $15,000.
Keep reading to find out what happens after you file for bankruptcy and where you can get advice from a debt consultant in Singapore.
Life after filing for bankruptcy 
Once you are declared bankrupt, you will have to head down to the Official Assignee's (OA) office where you will be briefed on your responsibilities. You will also be required to submit a Statement of Affairs which records your assets and liabilities to the OA. During this meeting, a monthly repayment plan will be discussed as well so as to help you become debt-free as soon as possible.
Your assets will be sold and the proceeds enter into a bankruptcy estate, which will be managed by your OA. However, there are certain assets that are off-limits, such as your HDB flat, life insurance policies and CPF monies.
Your name then enters the bankruptcy register and this is often the biggest worry for many debtors. The register can be freely searched by anyone, including future employers and the general public, but with a fee involved. While this can be despairing, the good news is that your name will get removed from the register five years after discharge as long as you have successfully paid off your target contribution.
You can continue working as normal and this is important as it is one of the most feasible ways to earn a secure income to help you to pay off your debts.
You will have certain responsibilities to fulfill as a bankrupt and have some restrictions placed on you at the same time. For instance, it is compulsory that you disclose all assets to your OA, make timely monthly contributions to the bankruptcy estate, and keep your OA abreast of any changes to your place of residence and contact details. As for restrictions, take note that you will not be able to leave Singapore without your OA's permission, borrow more than $1000 without disclosing that you are bankrupt, and manage a business as the director without the High Court's permission.
How to avoid bankruptcy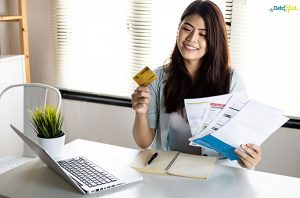 Although filing for bankruptcy is not the end of the world and can be a final lifeline for many debtors, it cannot be denied that being bankrupt will affect your life one way or the other.
Hence, if there are solutions to help you avoid bankruptcy, it may be worth giving them a shot. Some ways to repay your debt in Singapore include taking up a debt consolidation plan or applying for a debt repayment scheme.
Unsure which solution is the best for your situation? A debt consultant will be able to help!
We have a team of competent debt consultants here at Debt Aid, a debt consultancy service in Singapore. Let us help you to weigh your options so that you regain financial freedom in the most suitable way possible.